The transformation of Antigoon I into Antigoon II. Do you want to know how EMCÉ contributed to keeping this myth alive?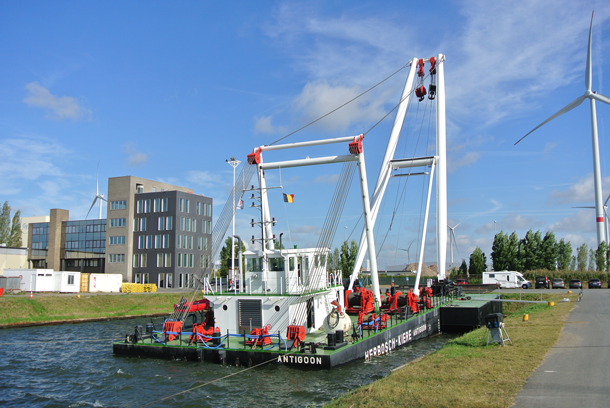 Although the common belief is that the name 'Antwerpen' comes from an old word for 'harbor', there is a myth saying otherwise. It's the well-known myth about the giant called Antigoon. He terrorized Antwerp by making the passing ships pay toll - until one day a brave little guy named Brabo fought and killed him, chopping of his hand and throwing it into the river Scheldt. Throwing hands in Dutch is "hand werpen", hence "Antwerpen". They say, that the spook of Antigoon has never left the harbor of Antwerp.
Today, Antwerp has the second biggest port in Europe and is often associated with a harbor town. Many people want to keep the myth of the Antigoon spook alive, therefore you come across the name 'Antigoon' a lot in the city. Do you want to know how EMCÉ contributed to keeping this myth alive?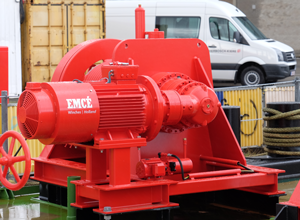 Herbosch-Kiere is specialised in river, port, coastal and offshore projects. With their innovative approach, this company is constantly investing in upgrading its equipment. This time the vessel's owner Herbosch-Kiere has partnered up with Maritime Antwerp Service (MAS) and EMCÉ Winches to give one of their barges Antigoon I a second chance on life as Antigoon II.
Gerrit Jan Gerritsen, Sr. Account Manager with EMCÉ Winches explains: To transform the Antigoon I into Antigoon II, Herbosch-Kiere asked us to provide 17 new winches: ranging from the hoisting and topping winches for the two main hooks to tugger and mooring winches.
A few important selling points are that all winches are driven with Bongfiglioli frequency-controlled electrical motors of up to 75 kW. Almost all of these winches can be controlled with one joystick and importing information such as loads and speeds are displayed on a touch screen panel. Even operating from another location by means of two supplied wireless remote controls is possible.

In addition, due to unique techniques used, no pre-spooling systems are required. The on-board winches are designed and installed as to reflect the cables' natural spooling behavior.
The partnership between Herbosch­Kiere, MAS and EMCE has taken up approximately one year for the entire conversion project of this lifting barge.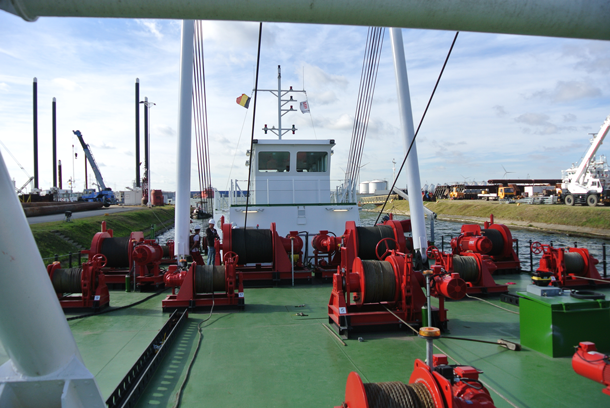 According to Herbosch-Kiere: "Absolutely the greatest challenge was finding the right supplier, with the ability to translate the users' desires into the proper hard­ and software. Obviously, we intend the Antigoon II to be in successful operation for several decades.''